Teaching
We conduct research on the intersection between digital entrepeneurship, digital ecosystems, and organizing data and knowldedge. We will provide multiple courses that help to explain changes on firm- and ecosystem levels using multiple theories and methodologies. Our teaching is usually highly interactive and builds upon concepts of blended learning, oftentimes 'flipping the classroom'. It is important to us to not only reflect latest findings of information systems research with our students but also to work together on applying that knowledge. 
Our teaching extends to Bachelor, Master, PhD and Postdocs. Offers for PhD and PostDocs will be more clearly defined in the following months.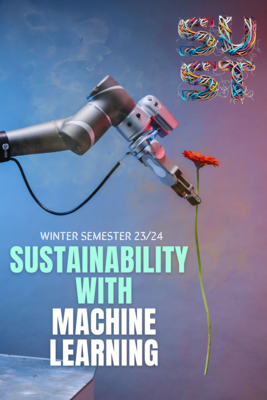 Lecture and Tutorial
Sustainability with Machine Learning (Sust-ml)
Lecturer:

Prof. Dr. Hannes Rothe
Mahnoor Shahid

Contact:

Term:

Winter Semester 2023/2024

Cycle:

Each Winter semester

Time:

Lecture: Thursdays, 10:00 - 12:00; Tutorial: Mondays, 10:00 - 12:00

Room:

Lectures: R12 T02 E12; Tutorials: S05 T00 B83

Language:

English
Description:
Sustainability with Machine Learning explores the integration of machine learning techniques into sustainability domains to address environmental and social challenges. This course covers the foundations of machine learning, deep neural networks, and sustainable development applications. Students will gain knowledge of how machine learning may increase sustainability in decision-making, facilitate environmental monitoring, better supply chain management, and optimize energy efficiency. This course also reflects on using AI fairly and with ethical considerations in order to promote sustainable practices.
Learning Targets:
Develop an understanding of sustainability principles and their application in technological advancements.

Learn about data preparation procedures, machine learning algorithms, and methodologies for training and evaluating models.

Explore deep learning architectures, including Vision and NLP models.

Discover how supply chain management, environmental monitoring, energy efficiency can be improved with the help of machine learning.

Recognise the ethical issues involved and how AI should be applied fairly in sustainability applications.
This course allows you to collect credits for the Sustainable Education Certificate (BNE)
Outline:
Introduction to Sustainable Development

Fundamentals of Machine Learning

Deep Learning Architectures

Sustainable Supply Chain Management

Predictive Analytics for Energy Efficiency

Environmental Monitoring and Conservation

Ethical and Fair AI for Sustainability
Literature:
Sustainability: A Comprehensive Foundation (2015) by Tom Theis and Jonathan Tomkin (eds.)

Introduction to Sustainable Development (2012) by Jennifer A. Elliott 2012

Pattern Recognition and Machine Learning (2006) by Christopher M. Bishop

Machine Learning Yearning (2018) by Andrew Ng

Deep Learning (2016) by Ian Goodfellow, Yoshua Bengio, and Aaron Courville

Sustainable Supply Chains: A Research-Based Textbook on Operations and Strategy (2017) by Yann Bouchery, Charles J. Corbett, and Jan C. Fransoo

Predictive Analytics for Energy Efficiency Improvement (2019) by Sime Curkovic and Amir S. Gandomi

Environmental Monitoring Handbook (2002) by Frank R. Burden and Robert A. McDonnell

Artificial Intelligence for Good: How Technologies Can Save Our World by Rajiv Malhotra
Methods of Assessment:
Written Exam (40%) and Project (60%)